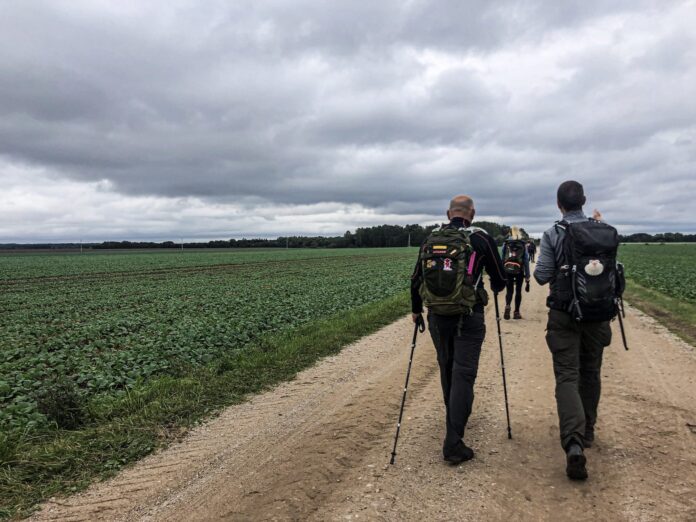 The Lithuanian pilgrimage called St. James' Way (Šv. Jokūbo kelias), or the "Camino Lituano" is now registered with the European Ramblers Association (ERA). ERA is a network of long-distance routes for hikers, promoting European cultural heritage preservation and development.
The "Camino Lituano" is the first and only 500-kilometre designated hiking route in Lithuania, and stretches from Žagarė to Seinai (in Poland). It is not merely a road from point A to point B marked by the scallop shell, the symbol of St. James, but a journey of discovery, similar to the famous Camino de Santiago in Spain. The godfather of the Lithuanian camino was director Jokūbas Vilius Tūras, one of the first famous Lithuanians to walk the Camino de Santiago in Spain. His documentary film about his experience "Sapnuoju, kad einu" (I Dream of Walking) won the Silver Crane Award in 2013.
Shortly afterward, Kristina Stalnionytė published her book "Kelias į Santjago de Kompostelą" (Road to Santiago de Compostela). A Lithuanian by the name of Guoda also made the journey and travelled throughout Lithuania telling her story in person. More and more Lithuanians became interested in walking the Camino in Spain, until finally the idea of creating one in Lithuania came to light.
The initiators consulted with the creators of the Polish "Camino Polaco", who encouraged them to embark on the project, funded privately with no support from political parties or government institutions. The Camino Lituano is 500 kilometres long, with 21 stations, and overnight rest stops every 20-25 kilometres.
The Camino Lituano is already being travelled by many who are familiar with pilgrimages in Portugal and Spain. Pilgrims travel the road to experience joy, to discover themselves and other people, to return to peace, each in his or her own way.
The Lithuanian pilgrimage route includes both historical and unknown places, as well as detours to see more of the beautiful countryside. Interest has grown in many communities and municipalities wanting to share in the project. In 2021 permanent signposts for the "Kelias" will be completed.
In November, 2020, the Council of Europe certified the St. James' Lithuanian Pilgrimage Road with its four side-routes for a three-year period. The route includes 40 municipalities, and is maintained by an association established in 2016. For more information see:
svjokubokelias.lt and caminolituano.com.
Information from bernardinai.lt