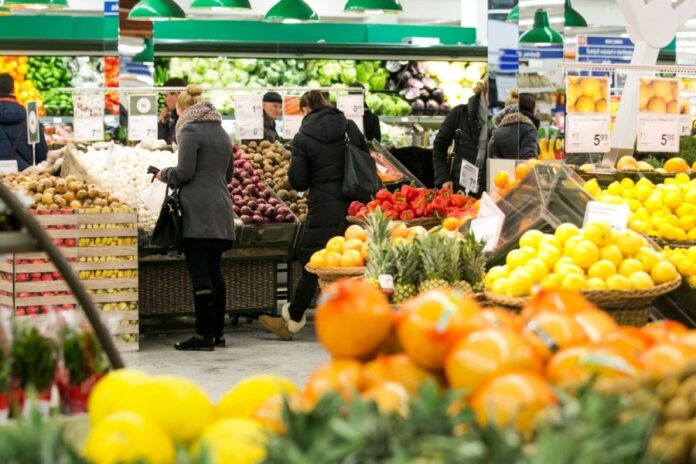 Prices are rising everywhere – food is more expensive in Lithuania as well
The price of popular and well-known food products in Lithuania increased by 1.12 euros, or 2.7%, in September month-on-month, and jumped by 3.87 euros, or 10%, year-on-year.
The price of the cheapest food basket in Lithuania in September rose by 1.59 euros, or 2.9%, since August, according to an analysis by the Pricer.lt price comparison website. Year on year, it edged up by 0.19 euros, or 0.3%.
A basket of goods is a constant set of general goods produced in an economy whose prices are tracked over time. Here are the numbers for some well-known chains: Maxima remained the chain with the cheapest basket (up by 2.89 euros to 50.8 euros). Norfa rose to second place after lowering the price of its basket by 2.25 euros to 52.16 euros, followed by Lidl in third position (up by 1.59 euros to 53.48 euros). Iki remained at number four, with the price of its basket up by 1.77 euros to 55.64 euros. E-Rimi held onto its fifth position (up by 1.66 euros to 57.44 euros), followed by Rimi (up by 4.54 euros to 58.17 euros) and Barbora (up by 0.95 euros to 63.2 euros).
Prices for 28 of the 52 products monitored by the website rose, and prices for 19 products went down. The highest increases were in prices for potatoes, sunflower oil, black rye bread, milk and ground coffee.
Potatoes?! The price of Lithuania's staple food – potatoes – already rose the most among produce sold in the country back in August. The key ingredient behind the likes of cepelinai, vėdarai, and kugelis cost on average 70 cents per kilogram, rising by 66.1% since last year, according to a survey carried out by pricer.lt. Bananas came second, rising by 50.5% to 95 cents per kilogram, and tomatoes – by 39.6%, at 1.03 euros.
Two months ago, apples depreciated the most, by 51.3% to 43 cents per kilogram. The cost of "Panevėžio plius" sugar decreased by 13.5% to 77 cents per kilogram, and dark chocolate "Karūna" went down by 11.5% to 86 cents per 100 grams.
News from LRT.lt