The holiday season is upon us, and for most that means searching for the perfect gift for everyone on your list. It's also a time to be with your family, for celebrating longstanding traditions, and delicious food.
Wouldn't it be great to infuse the holidays with some Lithuanian spirit? Besides traditional Christmas Eve dinner and attending Christmas mass, why not tuck a uniquely Lithuanian gift under the Christmas tree this year. Sure, they're not that easy to find for us living abroad; That's why, this year, we've decided to infuse your Christmas with some "Lithuanian flare" by selecting some special items you can purchase on the internet or at a nearby store right here in Canada.
We present to you a list of Lithuanian-inspired gifts and ideas for the holiday season! Some of them are things we've discovered this year, others are everyday items that you otherwise mightn't have considered giving. What better way to spark joy than to find a clever gift that reminds us of our roots this Christmas season!
Traditional Christmas Ornaments
Straw stars and crochet snowflakes are an old holiday tradition in many European countries, including Lithuania. Back in the day, people would use straw and string to create decorations for their homes in an inexpensive fashion. If you feel like getting crafty, add a touch of glitter to the snowflakes, for a more dazzling look. This year, give your Christmas tree an authentic, old Lithuanian-style look. Many styles and kinds available on etsy.com.
Voluspa "Baltic Amber" Candles
Light and refresh your space this holiday season with Voluspa's buttery "Baltic Amber" scent candles. Perhaps you didn't even know that as well as making beautiful jewellery pieces, amber (as tree resin, in its normal, non-fossilized state) has a lovely, woody, sweet scent. Deepened with exotic sandalwood and finished with elegant vanilla orchid, enjoy one of these candles whilst sitting around the fireplace with family and friends or give it to mom to enjoy (moms love candles!) anthropologie.com and in stores.
Wooden Kitchen Spoons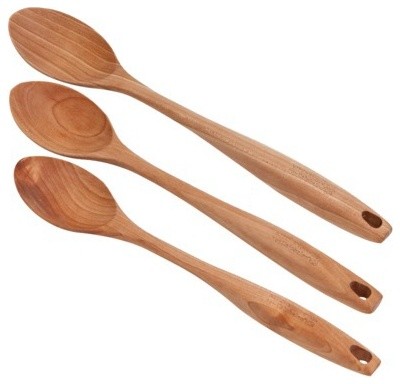 It's nearly impossible to walk into a kitchen in Lithuania and not find an array of wooden cooking spoons. They're one of the most basic, yet essential kitchen tools, perfect for cooking, or even for serving at the dinner table. Gift them to newly-weds or as a "Christmas-y" housewarming present, paired with a Lithuanian cookbook. william-sonoma.com and in stores.
Lithuanian Beer "Svyturys"
Seems like old news, but don't forget about Lithuania's very own brew, available in LCBO stores or your local liquor stores. Don't overlook this classic beer for your Christmas festivities or New Year's Eve party. For a drink that's midnight-worthy, try 1/2 glass of this lager, with 1 oz pineapple juice, topped with champagne. Ring in 2016 Lithuanian style!
Lithuanian Honey Spirit "Krupnikas"
If beer isn't really your style, try the almighty and elusive Krupnikas – the holy grail of Lithuanian drinks. They say Lithuania has the largest collection of amber in the world – known as the gold of the baltics – but we've uncovered a far more enticing "gold" in their liquor cabinets: Krupnikas, or Honey Spirits. This boozy drink is a sweet, fragrant blend that is almost too complex to describe… sure there's honey, but there's also orange peel, an entire vanilla bean, ginger, cardamom, allspice, and so much more. Krupnikas takes 2 weeks to make, but tastes even better as it ages. Bottle a batch in a festive glass jar and gift it to a coworker! Recipe available here.
"Taste Lithuania" Cookbook
Beata, known for her popular cooking TV-show in ‪Lithuania‬ called "Beata's Kitchen", set out to create a solid, contemporary collection of Lithuanian recipes, and ended up with what she calls a "love letter to Lithuania" – a 360 page book entitled "Taste Lithuania" filled with recipes, breathtaking scenic photos of Lithuania, and stories of fellow Lithuanians who continue to cherish the countries culinary traditions. Features an entire section on Lithuanian Christmas Eve Dinner! Get your copy at beatosvirtuve.lt
 "The Other Dream Team"

If for some reason all your family and friends have not yet seen this inspiration flick….it's about time! Give this one to a significant other or friend and they'll immediately know everything they need to know about where you come from and what you're made of as a Lithuanian. This is the story of the Other Dream Team – a team who won an Olympic bronze medal and emerged as a symbol of democracy, helping their country break free from the shackles of Russian communism. Available on amazon.ca
"The Invisible Front" DVD
The Invisible Front is an award winning film about love and the fight for freedom. In 1944, Soviet forces occupied Lithuania for a second time in less than five years. This time the youth of the nation chose to fight back and formed a guerrilla army of partisans called the Forest Brothers. Among them was a charismatic leader named Juozas Luksa who joined the resistance with his three brothers. The Invisible Front tells the story of a Lithuanian resistance movement, whilst illustrating the forces of a fierce, young love. This makes a great inspirational and educational gift to anyone who is interested in the history of our brave country. Get your copy at amazon.ca.
Andrius Mamontovas "Degancios Akys"
A household name in Lithuania, Andrius Mamontovas has been charming audiences with his recipe of melancholic rock for over two decades now. He's experienced major success as front man in rock band "Foje", and continues to lead an outstanding solo career.  Managing to keep an unparalleled level of popularity has not been a difficult task for Mamontovas, who has toured many European countries, Canada and the U.S. 2015 saw the release of Mamontovas' solo album "Degancios Akys," which he has said reflects the romantic nature of the songs – passion, faith and determination. Gift this one to fans of rock music, or a significant other, and tune in for some sweet holiday listening. Available on amazon.com
Handmade Felt & Wool Slippers
Stay toasty-warm this holiday season with beautiful slippers made from felt and Lithuanian wool. These felted slippers are made using all natural products –wool, hot water and soap. The soles are covered with a light, non-slip natural latex. They're great for wearing indoors. Give a pair as a thoughtful, practical gift, or put out a pair or two for guests to wear when they come over to visit over the holidays. Available on etsy.com
Drake's Toronto "Raptors" Basketball Gear
Show your support for your beloved Raptors – especially Valanciunas, now that we know he's here to stay – with Drake's new Raptor's inspired merch. On November 13, Drake launched a new clothing line in collaboration with the Toronto team and the Philly-based sportswear brand Mitchell and Ness. The collection includes T-shirts, sweats, snapbacks and toques decorated with Drake-isms, the OVO owl and, of course, the Raptors' logo. Show Toronto and Valanciunas pride with one, trendy swoop! Items are available at Real Sports, the OVO store, or online.
"Skullman" Basketball Skeleton T-shirt
Greg Speirs' Lithuanian Slam Dunking Skeleton rallied the 1992 Lithuanian Men's Olympic Basketball Team to a bronze medal victory in the Barcelona Summer Olympics and generated huge funds which the artist readily donated to the Lithuanian team. Wear this shirt with pride at the next Toronto Raptors Lithuanian Heritage night. The Original 1992 Jerseys and the new 2012 Edition Collector's Reissue are both available from: www.skullman.com.
Handmade Lithuanian Wooden Toy Set
Finally, something for the kiddies! Introducing the Woodland Toys set by Lithuanian brand MielaSiela. Remember when you were a child and handmaid and painted wooden toys were the most precious thing? Now you can pass it on to the special children in your life. Simple design, playful and small size figures are perfect for little hands to hold and use in play. Let your child use their imagination and have fun creating their own Lithuanian fairy tale! Available at dappermrbear.com
 "Between Shades of Grey" by Ruta Sepetys
With a Hollywood movie now in the works, it's the perfect time to finally pick up this read from this Lithuanian-American. Sepetys' first novel offers a harrowing account of the forcible relocation of countless Lithuanians in the wake of the Russian invasion of their country in 1939. Sepetys, the daughter of a Lithuanian refugee, estimates that the Baltic States lost more than one-third of their populations during the Russian genocide. Though many continue to deny this happened, Sepetys' beautifully written and deeply felt novel proves the reality is otherwise. Hers is an important book that deserves the widest possible readership. Available at amazon.ca
"We Love Lithuania" Photo Book
More than 40,000 images. More than 6,000 professional and amateur photographers. All of these comprising the "We love Lithuania" community.  Four years of consistent work and " We love Lithuania " presents its first official photo album: A collection of awe inspiring images, amassed by those who make up the very "We love Lithuania" community itself. This stunning picture book makes a lovely coffee-table read for those who know Lithuania, as well as those who still have yet to explore its beauty. welovelithuania.com
Tenth North American Song Festival Program Book
Demand for the program exceeded supply during the 10th song festival in Chicago this summer. Due to popular demand, a limited run of the program booklet have been printed. Each book contains almost 200 pages of information about participating choirs and ensembles, glossy images of choirs and their directors, and informative descriptions about the festival itself. Relive the fascinating festival all over again with this lovely memento. Buy it for the chorister in your family, or for those who couldn't make it to the momentous occasion. While quantities last at dainusvente.org. Shipping to Canada adds $5.00 to the cost of the publication. Prices are shown in U.S. dollars.